Photo courtesy of Getty Images
The head coach is the most important part of the football team. You could have great players, but you're still not winning anything with a terrible head coach (i.e. Chad Morris at Arkansas). A great coach turns three and four star players into award winners, and turns five star players into first round draft picks. So many things go into being a college coach. You have to be able to game plan for the upcoming opponent, get the right coordinators for the scheme you want to run, recruit players that fit your scheme, and be the head of the program by making public appearances and showing out.
So many people just are not cut out to be college coaches, and that is okay. However, when you're a school in the Southeastern Conference, you need to have a good coach. This past season four SEC schools hired new head coaches, so it's really anyone's guess on how well the new hires will be able to acclimate to their new school.
I'm not going to lie, I am completely inspired to write this because of Alex's rankings of the Big Ten coaches. But hey, more content, and you the reader are getting someone else's opinions. My rankings will be as unbiased as I can, but since they are my rankings opinions are gonna shine through at points.
That's enough information to start, let's get into the list.
14. Shane Beamer, South Carolina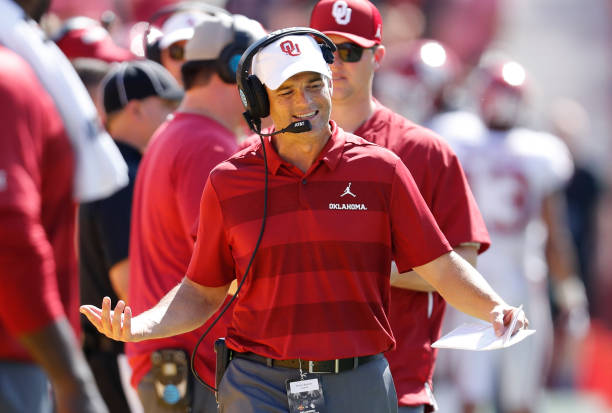 South Carolina fired Will Muschamp after a 59-42 loss to Ole Miss, and were the first power five school to have a head coaching vacancy. They were also the first to fill their vacancy, shocking the world by hiring Shane Beamer. Beamer was previously the tight ends coach and assistant head coach at Oklahoma, a position he had held since 2018. As an assistant for the Sooners he went to two CFP Playoff games and had a regular season record of 32-5. He also was on the coaching staff when Oklahoma had the highest scoring offense in the 2018 season.
Beamer's record looks solid at first glance, but he was on a staff under Lincoln Riley, who had a great offense before he arrived. On top of that, it's unknown just how much Beamer added to the team. With South Carolina being the first to the table in the coaching carousel, they could have theoretically gotten whoever they wanted. With coaches like Hugh Freeze at Liberty wanting to make the jump back to a power five school, or Steve Sarkisian being the offensive coordinator at Alabama wanting to get another chance as head coach, it seems as if South Carolina missed out on the best possible hire.
With this hire, South Carolina proved they wanted to move on from Muschamp by getting an offensive-minded coach, and they confirmed their willingness to stay in the bottom-half of the SEC for the upcoming future.
13. Josh Heupel, Tennessee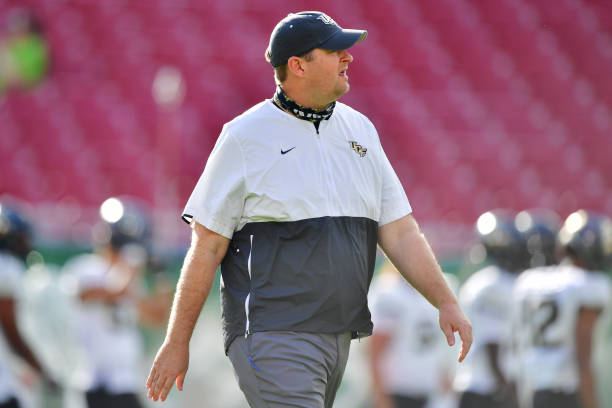 Tennessee fired Jeremy Pruitt after a disappointing 3-7 season and serious recruitment violations came out. With the vast majority of coaching vacancies filled by the time Pruitt was fired it made finding a replacement much harder for the Volunteers. In a relatively short period of time, they hired Josh Heupel as their newest head coach. Heupel was previously the head coach at UCF, taking over after their 2017 season in which they claimed a National Championship and Scott Frost left for Nebraska. In each of Heupel's years as head coach at UCF they have gotten progressively worse. In 2018 he went 12-1, with the loss coming against LSU in the Fiesta Bowl. In 2019 he went 10-3, and in his last year at UCF they went 6-4, including a loss in the Boca Raton Bowl against BYU.
The argument could be made that Heupel's early success came from players left over from Scott Frost's tenure. With the diminishing returns on the field, it is hard to counter that argument. Tennessee does not have anywhere near the talent that UCF did when he was first hired there. Compounding that would be the recruitment violations that occurred which we have yet to see the punishment for. Depending on how bad the punishment is, Heupel could begin his tenure with his hands tied behind his back.
This hire in and of itself is a safe hire for Tennessee, but I fear off-field problems may result in the downfall of Heupel as a Vol.
12. Clark Lea, Vanderbilt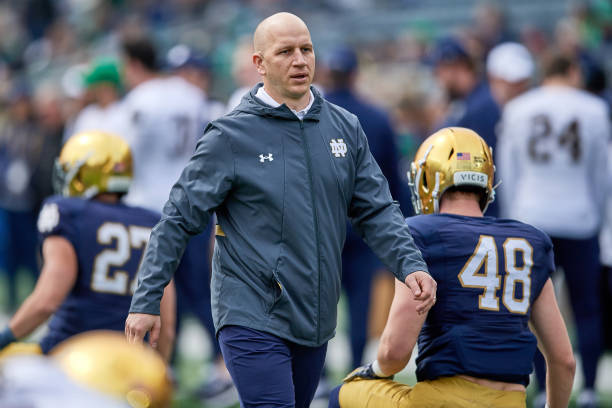 Vanderbilt fired Derek Mason after starting 0-8 in the 2020 season and a brutal 41-0 loss to Missouri. Vandy has been the bottom of the SEC football for many years in a row, and it almost seems as if they'll never climb out. Next up to try to get Vanderbilt out of the basement of the SEC is Clark Lea. Lea had been at Notre Dame since 2017 and had been their defensive coordinator since 2018. Under Lea, the Fighting Irish defense has been a phenomenal force, with the 2020 defense being in the top 15 of college football.
One main drawback of Lea is that he has never been a head coach before. Coaches tend to get better with experience and with Lea not having any head coaching experience, there could be problems. Also, he won't be getting much help from his players. Vanderbilt's talent level on the field is one of, if not the, worst in the SEC and among all power five schools. Due to being in the same conference as perennial winners, and not focusing all their money on their football program, Vandy has trouble getting recruits to Nashville.
Unfortunately for Lea, it seems as if he is set up to fail. After having only two six-win seasons since 2014, one has to wonder how much of a leash he will be given. I do hope that Lea is successful in his first head coaching gig, especially since it is at his alma mater.
11. Bryan Harsin, Auburn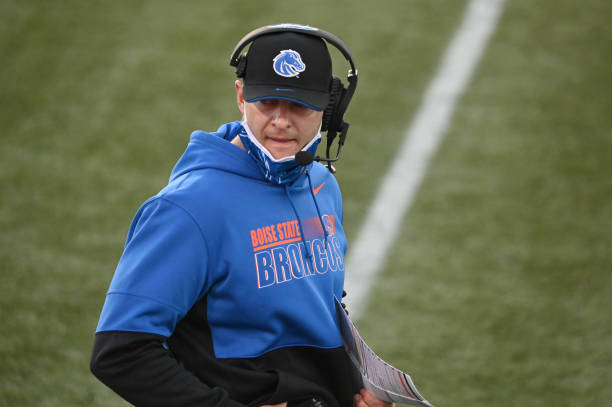 Gus Malzahn's time at Auburn came to an end after going 6-4 in the 2020 season. Malzahn had gone 68-35 as the head coach with a National Championship Game appearance in 2013, and going 3-5 in the Iron Bowl. However, Auburn decided that it was worth it to spend over $31 million to buy out his contract and fire him. After an entertaining while on the coach search, they hired Bryan Harsin. Harsin was the head coach at Boise State since 2014 where he went 69-19 with three bowl wins, and having every year except 2015 lead his team to be either tied or the outright conference winner.
Harsin's time at Boise State is quite an impressive resume, but the caveat being that they are in the Mountain West Conference and he is now jumping to the SEC. The SEC is the best conference in college football, and making that much of a leap may prove to be quite difficult. Also, during the hiring process rumors came out that four coaches had turned down the Auburn head coaching job. Former defensive coordinator Kevin Steele, Alabama offensive coordinator Steve Sarkisian, Louisiana head coach Billy Napier, and Clemson defensive coordinator Brent Venables are all reported to have turned down Auburn. The Tigers did not get their first choice at head coach.
Harsin definitely has potential to be a good hire, but with him being at best the fifth choice for Auburn and with his main rival being Alabama he has a steep uphill climb. For Auburn's sake, let's hope they lucked into a good coach.
10. Mark Stoops, Kentucky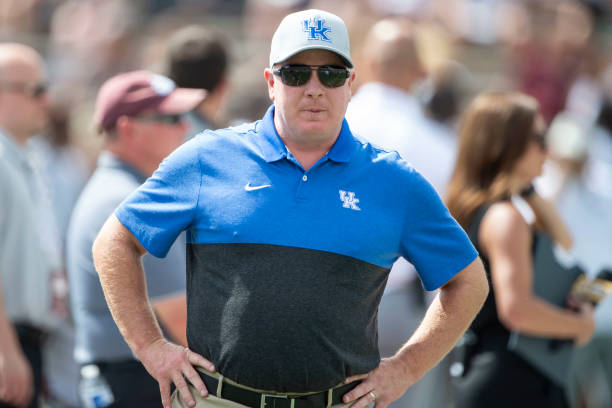 Good ole' Mark Stoops, the first of the coaches that aren't new hires. It's hard to think that he is going into his ninth season at Kentucky when it seemed for a while that he would get fired. After leading the Wildcats to their first win against Florida since 1986 and finishing that year with ten wins, Stoops' job has seemed pretty secure. He is riding high on three straight bowl wins and making the best Kentucky football that I've seen in my lifetime. His overall record at Kentucky is 49-50, so this upcoming year could finally be the year he gets above 0.500.
Coming in at 10th in my rankings may seem like he is a below average coach, but that is far from the case. All the coaches in the SEC are good, so coming in tenth is not bad. Stoops being here is due to the fact that during his entire time at UK he hasn't competed for the SEC or even SEC East titles. Should his program become more competitive and have a chance at making the game in Atlanta he will rise in my rankings, but until then this is his spot.
9. Eli Drinkwitz, Missouri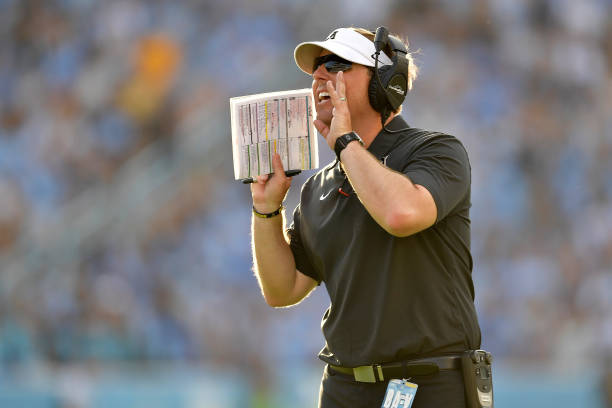 I know people won't like how low Eli Drinkwitz is ranked, but I cannot rank him higher. These are my rankings after all. In his first year as the Missouri head coach, he went 5-5. What got him to the Missouri job was his one year as the Appalachian State head coach in which he went 12-1. Both of those records are impressive, considering his 5-5 season was in a ten-game all-SEC schedule. The main argument against Drinkwitz is that his success has come from players that were at the school before he was. The season before he took Appalachian State to 12-1, they went 11-2. The season before he started at Missouri, they went 6-6.
The main way for Drinkwitz to show how great of a coach he is, is to have years of success with players that he brought into the program. I want him to be successful (aside from one game a year that is) and bring Mizzou back to competing for the SEC East. I am a firm believer that the SEC is strongest when even the "bad" teams are competitive, and I definitely think that Drinkwitz will get the Tigers beyond competitive.
8. Sam Pittman, Arkansas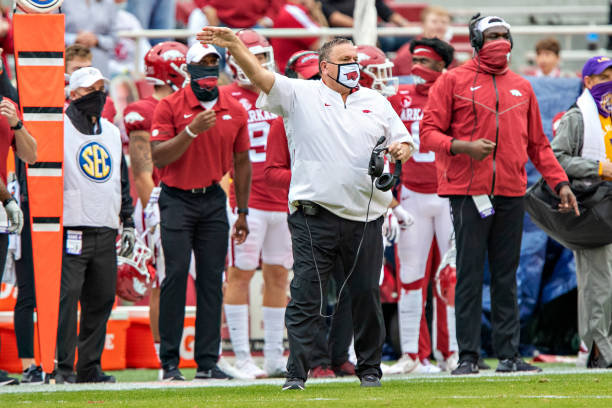 Oh man, it's going to be hard keeping bias out of this entry. The fact that I forced myself to have him this low in the first place is stunning to me. I could go on and on about how much I love Pittman, but I am a Razorback fan and work for the team. All that aside I do believe that Sam Pittman has done a phenomenal job at Arkansas. Coming off of two seasons in which they won four total games and zero SEC games, many were saying the trend would continue with the announcement that the 2020 season would be only ten conference games. Pittman took that challenge and went out and went 3-7, the most SEC wins in a season since the 2016 season. Now I fully understand that 3-7 is not impressive at all, but taking an Arkansas team that had nothing to that level is impressive.
Everywhere Pittman has been, he has been loved by his players and other coaches. Now that he is a head coach, fans are falling in love with him as well. His main claim to fame is his talent as a recruiter, which was shown off in getting graduate transfer Feleipe Franks to come to Arkansas. Should the Razorbacks continue to grow and succeed under Pittman, it will get harder and harder for me to keep him this low on the list.
7. Mike Leach, Mississippi State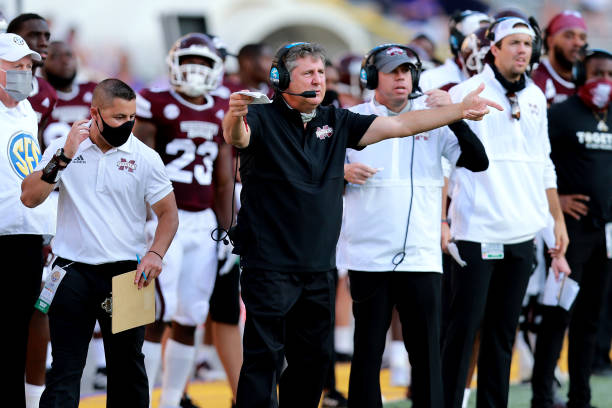 Where to begin with Mike Leach? He began coaching Division I football in 1997 at Kentucky where he helped develop the air-raid scheme which he still uses today. Aside from the 2010 and 2011 seasons, Leach has been a head coach since 2000. His career record is 143-97, and his teams have made bowl games every year he's been head coach except for 2012 and 2014. In those bowl games he has coached, Leach is 8-8. All of that is quite an impressive record, but there is downfall with Leach. First, his treatment of his players is not the best, shown best when he was at Texas Tech in 2009 and allegedly locked a player in an equipment closet. That incident led to him being fired at Texas Tech. Also, due to his strict adherence to the air-raid scheme, his offense can become easy to figure out, shown especially well in the game against Arkansas last season where he lost 21-14 with his quarterback throwing three interceptions.
At the beginning of the year, it seemed as if the air-raid was going to take over the SEC after the Bulldogs beat the defending champs LSU 44-34. However, with how the rest of the season went I think his ranking is more than generous. Maybe once he gets his players for his scheme Mississippi State will be good, but that has yet to be seen.
6. Ed Orgeron, LSU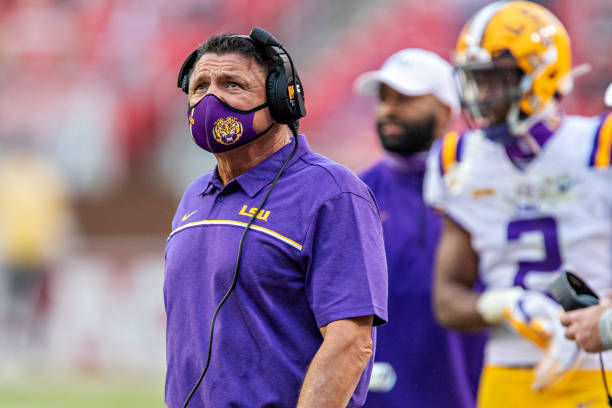 The coach where the only words you can understand from him are "Geaux Tigers" (that felt wrong to type). I truly think Coach O is the perfect fit for LSU with him being from Louisiana and fitting in perfectly in Baton Rouge. Orgeron's career as a head coach started out quite rough going 10-25 at Ole Miss in three years. However, since those days he has gone 51-16 as head coach, with him winning the 2019 CFP National Championship with LSU. That season was also the first 15-0 season in college football. This past season was not nearly as impressive as LSU went 5-5.
Orgeron is a great coach, but his main detraction is that after winning the national championship he didn't have a good rebound. Yes, most of his starters on offense and defense left for the NFL Draft, and both his offensive and defensive coordinators left for other jobs, but the question comes, is his success solely from those who left. I don't think it's solely from those people, and I do think in 2021 Orgeron will have the Tigers competitive again.
5. Dan Mullen, Florida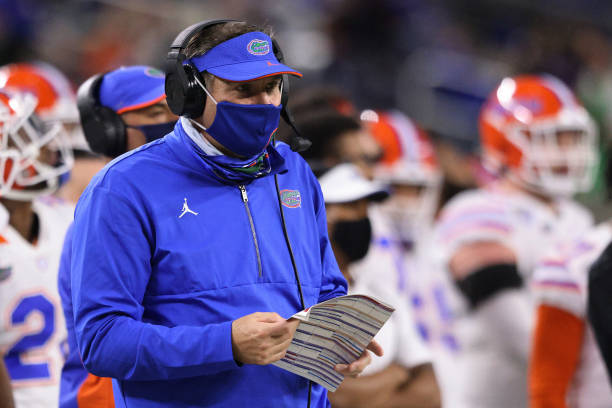 Wait, didn't Florida reach the SEC Championship game last year? Yes, they did, hear me out. Florida's main success last year came from their star-studded offense, but their defense was a liability at points. When all the offensive studs opted out of their bowl game, it was shown how far Florida could fall with them losing 55-20. I will admit, Florida's offensive success does belong with Mullen, as he is also the offensive coordinator. Mullen is in a weird position for me. I think he's a great coach, but I want more. He is 98-55 in his head coaching career, and most of those games came at Mississippi State. The fact that he made Mississippi State good while he was there makes him a great coach in my book.
What I'm wanting more from him is just in making a complete team. I know offense is his specialty, but the defense is also under the head coach. The defense of the 2020 Florida Gators cost them multiple games, including one where a defensive player threw an opponent's shoe, which got him a penalty and continued the game-winning drive. The Gators ended the season on a three game losing streak, and Mullen will need to fix what went wrong to make a solid 2021 season.
4. Lane Kiffin, Ole Miss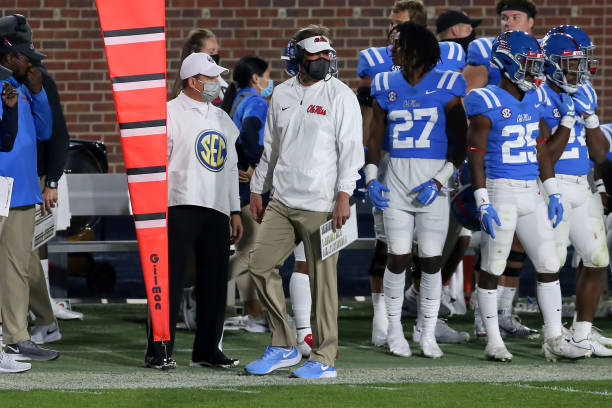 Wherever Lane Kiffin goes, excitement it bound to follow. When he got hired to be the Oakland Raiders' head coach he was the youngest in NFL history. At Tennessee he called out Urban Meyer for cheating. At USC he had to coach through the probation they were put on. When he was the Alabama offensive coordinator you almost had to watch the game just to see if Nick Saban would strangle him on the sideline. The calmest his career has been was when he was at Florida Atlantic. At FAU he went 26-13 and led the owls to two Conference USA titles. That is what led to him being the Ole Miss head coach. In his first year with the Rebels, Kiffin went 5-5, but impressed many people. Most of that came week three when his team nearly beat Alabama and put up 48 points.
All the excitement aside, Lane Kiffin is a much better coach than he was before getting the offensive coordinator job at Alabama. In the four years since leaving Bama he has a record of 31-18, and has seemingly endless upside. All I hope for Ole Miss fans is that he decides to stay put for a while so they can have some success.
3. Kirby Smart, Georgia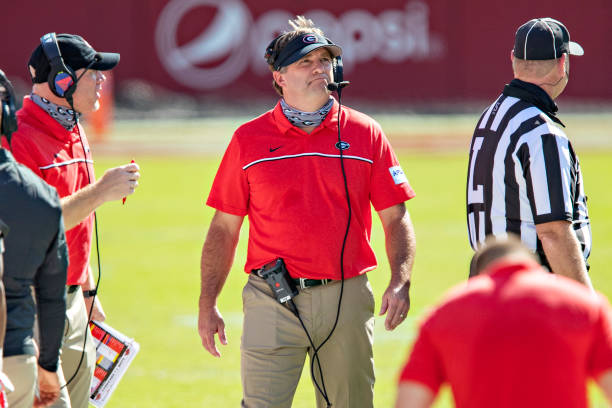 Earlier I said that Orgeron is the perfect fit for LSU, Kirby Smart is just that for Georgia. Smart played college football as a defensive back at Georgia, and the scheme that he has built fits for the Bulldogs. Georgia is Kirby's first head coaching job , and in that position he has gone 52-14 with four bowl wins, three SEC Championship Game appearances, one SEC Championship win, and an appearance in the 2017 CFP National Championship Game. For how short of a career Smart has had, his resume is impressive, which leads to him landing at 3rd on my rankings.
The main thing against Smart is that he has yet to win a National Championship. I truly believe he is capable of doing so, and I believe that he will win one. Unfortunately, the best chances Georgia has had at winning a National Championship have been upset by a coach later on the list. That aside, Kirby Smart is a great coach.
2. Jimbo Fisher, Texas A&M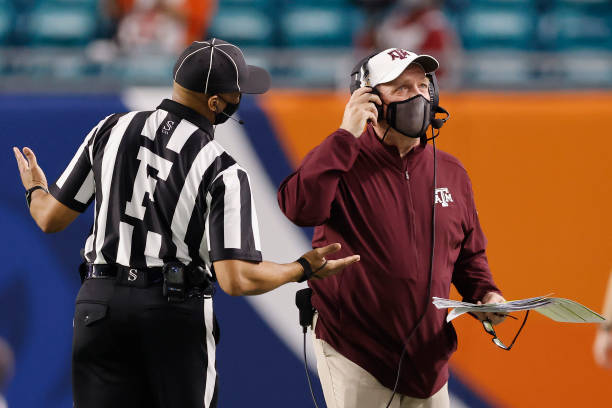 Jimbo Fisher, the man who, upon getting hired by A&M, received a welcome fit for the president. Jimbo's head coaching career really is a great one, and in many other conferences he'd be the best coach. In his ten years he has a 109-33 record, three conference championships, eight bowl wins, and won the 2013 BCS National Championship with Florida State. Since joining the SEC in 2018 he has gone 26-10, been second in the SEC West twice, and has won three straight bowl games. Being great with one team is hard enough, but Fisher has been great with two.
With how good of a coach Jimbo is, I have to expect more out of Texas A&M. Yes, during his time in the SEC he's been up against three of the best teams of all time in his division alone, but I do think he's a good enough coach to overcome that. I have him ranked as high as I do for a reason. In fact, just this past year his team made a good argument to be in the playoffs, but unfortunately they didn't make the cut. Next season for the Aggies and Fisher, I expect them to try to compete with Alabama for the SEC West.
1. Nick Saban, Alabama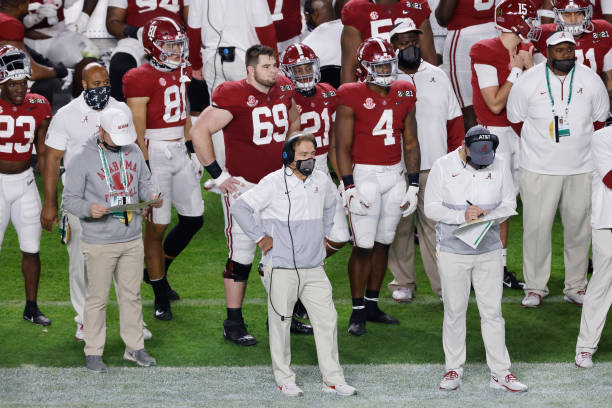 Nick Saban.
I could leave this entry at just the title and photo and everyone would understand. Saban has a career record of 256-65-1, the most wins among active head coaches. He's won 12 conference championships. He's won 17 bowl games. His teams have appeared in nine National Championship Games. And most importantly he has won seven National Championships, more than any other coach in NCAA history. Saban is the greatest coach currently in college football, and the argument could be made that he is the greatest of all time.
The thing that puts Saban far and away in first place of my rankings, asides from his record as stated above, is that he is not done. He has an insatiable need to win. In an interview after winning his seventh National Championship he said he still thinks of the ones he lost. Saban routinely brings in top recruiting classes and as long as he is coaching, his team will be in the championship picture.